KUNSTHAUS MARIBOR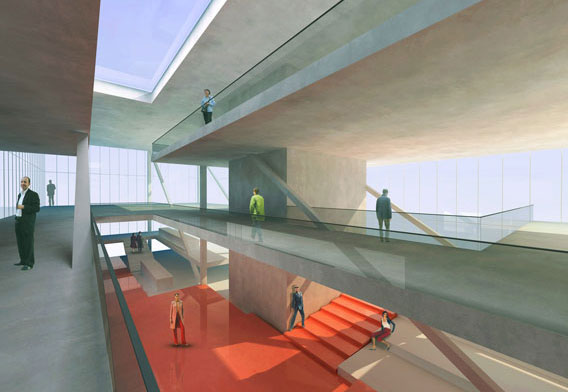 Crossing Boundaries
20.03.2010
Merging disciplines: Art is an blank spot in our daily life, questioning our habits and points of view. An art museum shall be a terra incognita in the city, irritating our routines, promising the unknown. The New Umetnostna galerija Maribor shall be an abstract object, situated in the centre of the most popular view in town overlooking the Drava River, posing the question if it was a building or an error in the image.
Re-linking the city: The New UGM shall be a building as well as a bridge, connecting the banks of the Drava river at a strategic spot.
Relating art and public: The New UGM shall be a new urban link, providing a public walkway through the museum, offering maximum interchange between art and public life.
Kurzinfo
Museum für zeitgenössische bildende Kunst, einschl. Künstlerappartments, Kindermuseum, Creative Industries Centre, Architekturzentrum
Größe
16.200m² NGF
Status
Offener, internationaler, einstufiger Ideenwettbewerb, 2010

Ort
Maribor (SI)

Auslober
Municipality of Maribor, Union of Architects of Maribor
Architektur
Pentaplan ZT-GmbH
Entwurfsteam:
Wolfgang Köck
,
Michael Stoiser
, Alexander Tagger, Fabian Wallmüller
Visualisierungen
Jakob Winkler